CULTURE
2011 saw the release of an extraordinary number of legendary pop songs.
2011 was a turbulent year, a year of the Arab Spring and Occupy Wall Street, of murdered dictators and earthquakes.
In terms of American pop culture, it was a time of great exuberance and energy. Female pop stars dominated the airwaves, as did the British Royal Wedding, as political unrest tangled with the public's desire for flashy distraction. Here are the pop culture highlights of 2011.
Music: Fridays and Queer Anthems
2011 was the year of the pop diva, and an almost unfathomable number of iconic hits by women hit the airwaves that year. Katy Perry and Adele dominated the charts, Lady Gaga's "Born This Way" became a queer anthem, Britney Spears' "Hold It Against Me" played perpetually, and Rihanna dropped her scandalous "S&M," the absolutely legendary "Man Down," and another song about Friday, "Cheers (Drink to That)".
Lady Gaga - Born This Way www.youtube.com
Rihanna - Man Down www.youtube.com
Avril Lavigne had us bopping along to "What the Hell" and Nicki Minaj had everyone learning the words to "Super Bass." Beyonce released "Love On Top" and "Who Run the World? (Girls)" and Jessie J. put out "Domino." Carly Rae, of course, dropped "Call Me Maybe."
Nicki Minaj - Super Bass www.youtube.com
Beyoncé - Run the World (Girls) (Video - Main Version) www.youtube.com
There were some sad bangers in the midst of all the girl power; Demi Lovato put out "Skyscraper" and Lana Del Rey dropped her mysterious amalgamation of found footage for "Video Games."
Lana Del Rey - Video Games (Official Music Video) www.youtube.com
And last but not least, Rebecca Black's "Friday" went super-viral and lodged itself in everyone's brains for eternity.
Rebecca Black - Friday www.youtube.com
Folky boys Conor Oberst, Wilco, and Jeff Magnum of Neutral Milk Hotel all had big years—the first two dropped great albums and the third reemerged from obscurity with a flood of unreleased gems. The ukulele also grew in popularity, taking center stage on the hit album w h o k i l l by tUnE-yArDs.

That year, we also tragically lost Amy Winehouse, who passed away at 27.
Movies: Franchises Come to a Close
2011's greatest hit was Harry Potter and the Deathly Hallows, Part 2, which smashed box office records. It was also a good year for the Twilight franchise; in Breaking Dawn, Part I, Jacob the werewolf imprinted (or fell eternally, irrevocably in love) with his former love interest's, Bella's, baby daughter.
Twilight 4 Breaking Dawn Part 1 Jacob imprints on Renesmee, the Cullens and the werewolves fight Y www.youtube.com
Overall, it was a strange year for film. The Artist had everyone falling in love with an adorable dog; Drive polarized audiences, and so did The Descendants; and the heart-wrenching Like Crazy had everyone sobbing.
Las mejores escenas de Uggie ''The artist'' www.youtube.com
TV: Escaping to Sweeter Times

Like the movies, television favored escapism, with shows like The Great British Bake-Off and Downton Abbey transporting viewers to other, sweeter times. Game of Thrones promised that "winter is coming," and South Park gave us "tween wave."
Breaking Bad, Sons of Anarchy, Fringe, and other dramas gained continued success.
Entertainment: Kate and Pippa Middleton Make History
2011's biggest entertainment event may have been the Royal Wedding, which dominated America's hearts. Kate Middleton's dress went down in history.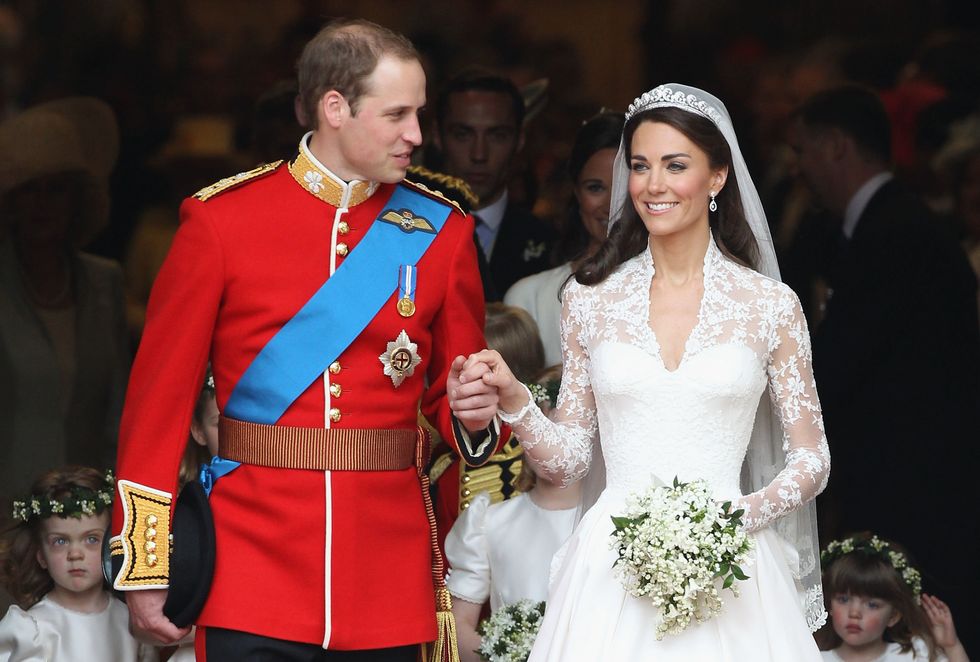 Royal Wedding - Carriage Procession To Buckingham Palace And Departures Bustle
In terms of viral trends, honey badgers and planking were huge. The year's top Twitter trends were:

It wasn't a great year for Charlie Sheen and Lindsay Lohan, whose hard-partying habits (and lawsuits) made headlines constantly. Lady Gaga arrived to the Grammys in a giant egg. Kim K. and Kris Humphries married and got divorced. Beyonce announced she was pregnant. Justin Bieber debuted his relationship with Selena Gomez–and was also slammed with a paternity suit. Demi Moore and Ashton Kutcher broke up. Anne Hathaway and James Franco hosted what was called "the worst Oscars ever."
That was 2011... A year of divas and distraction, chaos and comedy, and of course, the only 11/11/11 any of us will be alive for.